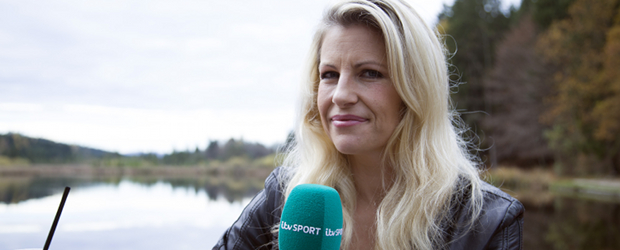 I love the end of the football season: by this time, I've had it up to here with it all but also know that a break will make me glad to see it all again in a few months. It's also the time of year when I've made sure to keep recordings of the last few episodes of ITV4's 'Bundesliga Football Highlights' as I'm not sure if its contract gets renewed for the next season. I don't want to be without it. My "Rupert Murdoch exclusion zone" forbids 'Sky' in the house, my lack of money forbids 'BT Sport' and they're both trying to make football into a seven nights a week drug. Not healthy.
Yes, Bayern Munich has won the league for the last four years and it all lacks the Premier League's helter-skelter unpredictability but it's so aesthetically pleasing. Its time slot and its whole modus operandi recalls the joy of watching the old ITV coverage of the football league, back in the day. Soundtracked by Dreadzone's 'Little Britain' and most often presented by sports reporter, son of Alan Clarke and documentary film-maker in his own right, Gabriel Clarke, the old ITV Football League show was all killer, no filler. It contained all the goals but it balanced things by trying to build narratives into its coverage.
What do I mean by narrative? Robert Lewandowski's five goals in nine minutes against Wolfsburg last year. In most programmes, you'd just get the five goals but they could be in different games against the same side. If you see it all in real time, you get the sense of the actual beautiful insanity of it all.
On that ITV Football League show, Clarke would visit one ground that weekend, interview the people involved in that particular game but in both that game and all of its other coverage, it would not only show all of the goals but it would work to show the missed chances, the sendings off, the mistakes. With the Bundesliga show, presenter Isabella Muller Reinhardt is somewhere in the streets of Germany but she keeps things rolling as the link between all of the coverage. Conversely, Match of the Day is still a national treasure but it works under contractual diktats: they can only show a certain percentage of football, padding out the rest of its time with punditry that most often tells us what you already know or strongly suspect. Here, various commentators get the chance to stretch out within the coverage. We get a narrative of each game, not a sprint through all of the goals and then some talk about what we've just seen with our own eyes.
ITV has got a suspect reputation with football sometimes. The hash that they made with their own coverage of the Premier League – 7.00 in the evening show; loads of advert breaks – has all started to fade away like a bad dream but during the 2014 Brazilian World Cup again offered ammunition against them knowing how to treat football correctly.
The final group games in the first round were played concurrently, as they've been since the West Germany versus Austria stitch-up back in 1982, but while the matches on ITV sounded like the commentators were actually there, the match deemed less important that was thrown over to ITV4, wherein the commentator sounded like he was in a studio somewhere, dubbing his commentary over the pictures. Cheap, nasty coverage.
And yet, and yet, it was noticeable to me what a fantastic job they made of last season's astonishing Liverpool versus Dortmund second leg in the Europa League quarter-final. Leaving aside the action, the cut-aways to the crowd, to the managers, to the reaction shots of Dortmund fans watching Lovren's late winner: all made it all the more poetic and engaging and with such little time between the end of the game and transmission time. Just great work. One could tell that the editors and directors really knew their football and strained as hard as possible to make the finest coverage. I don't know: maybe it was made by the satellite channel and then parceled out to ITV but it was top class work.
In Bundesliga, you get these single shots that convey the true flavour of what's going down. I remember last season, as two teams were poised at 0-0 at half time, there was a cut away of some small child reading the match programme but with an especially intent, almost adult, look on their face, while the commentator said something like: "There is much to ponder before the second half". Or this season, during one of the games in Bavaria, there was a shot of some half time entertainment: a load of blokes, maybe 15-20, all blowing into Alphorns because one of the coaches was from Switzerland.
The football itself tends to be grounded in clean passing and movement. Yes, it's a highlights show but they often say how rubbish the first half was or how bad one of the teams has been playing. One noticeable difference between the Premier League and Bundesliga is the woeful quality of goalkeeping.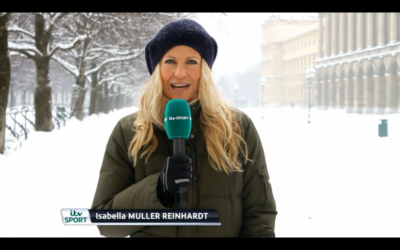 There can be some great shot-stopping, for sure, but what is it with this proclivity for punching or 'batting' the ball back into trouble? I've seen any number of goals where a German keeper punches the ball towards an oncoming attacker who just passes or heads the ball into the net over the prone goalkeeper. If you can't catch a ball, you punch it outside of the area, from a cross or a corner. If it's a shot, you punch or deflect it over the bar or around the post, surely? You can actually see these keepers saving a shot with a kind of 'scoop' motion but this naturally sends the ball back from whence it came and a goal usually follows. Very strange to observe. It seems endemic to the footballing culture, this nonsense, and it rarely gets called out for the ineptitude it is. It gets explained away as 'taking no chances' or 'the ball moving in the air'. Okay, so put it round the post or over the bar then. Corners, and actually catching the damn ball, gives the defence some time to take stock of a situation. Keepers batting a ball back into play never gives their defence any respite at all.
The post-match interviews are interesting. Perhaps twenty-five percent of the players can speak English (although not all of those players are German) and those who have their words translated for us into English can sometimes seem to be shockingly articulate. As in England, there's a lot of "but the most important thing is that the team got three points" pablum but there's also a heck of a lot of suspiciously articulate analysis too. I wonder if the translators are having fun or are just being polite and glossing the mumblings from the players? One could have a lot of fun translating.
Like the guy who did the "sign language" at that Nelson Mandela memorial service. Or people who, when speaking their non-native language and they find themselves in a sticky spot, only then do they start to have "trouble in understanding" (thus giving themselves some extra time to work their way out of trouble.). Or in the extremely decent Martin Scorsese film 'Silence' when Adam Driver and Andrew Garfield (both excellent) play Portuguese missionaries. Fine. Okay. It's a tired cinematic device, of non native English speaker characters speaking English but, I went with it. Later, though, one of them is told by a Japanese man that he'll translate the upcoming proceedings into Portuguese for him? What? I wonder what they did with the subtitles when it played in Portugal? Or maybe Portugal is a country that dubs foreign films. It all recalled the "translator" in 'Bananas' (1971).
Anyway, I'm hoping for at least another season of 'Bundesliga' on ITV4 and I won't wipe off the last three recordings from this season until I know that there'll be more to come. I often don't even watch Match of the Day nor the Football League show on Channel 5. I'm a season ticket holder at my local club and that, plus football on the radio is good enough for me (although never football phone-ins, unless they're presented by Danny Baker.) regarding England. But Bundesliga is the best purveyor of football of them all.
*************************
Money and the Hammer's Main Pages
FOOTBALL  CINEMA   CURRENT AFFAIRS     MUSIC     MISCELLANEOUS: (HISTORY, HEALTH, WORDGAMES……)