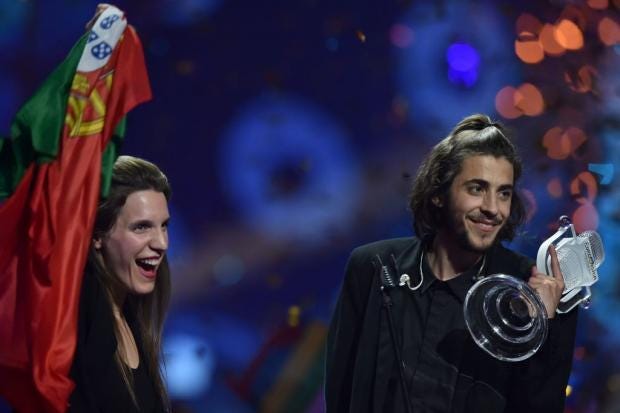 – Awesome. Finally, the oasis between series of 'Strictly Come Dancing' has arrived. Gonna dive into a vat of mulled wine, mash the keys on this laptop and hope that everything turns out okay.
– Having read the Hillary Clinton campaign's playbook: "Deflections, Misdirections and Blame-Shifting", I'm thinking that if the UK gets any static tonight, I'll be wagging my finger; thinking that if Europe had only voted the UK into first place last year then that victory would have been worth at least a three point swing during the shambolic folly of June's vote and there wouldn't have been enough knuckle-draggers to allow scoundrels like Farage, Johnson, Gove, May et al to 'cornhole' the country. So, it's actually their fault.
– Greatly looking forward to some two to four minute tunes. I got into the music of the late madman/genius Fela Kuti recently and his tunes are anything from 7 – 30 minutes long. Strongly recommend him. He's all I listen to at the moment so I'm greatly looking forward to switching gears.
– We know how this plays out. Later tonight, there'll be a separate story on the site about who wins and someone who's been out this evening and recorded the whole shebang, won't take any responsibility on themselves, won't try to insulate themselves, and will look at the net and be aghast, posting their indignation at the Guardian's "spoiler".
– More than Christmas, more than my birthday, the introduction music for Eurovision always reminds me than I'm one year closer to my cold, cold grave……Pfffffft! I need to lighten up and get myself a girlfriend….
– Heidi: Granham Norton: "The last few years have seen the semi-finals weed out some Eurovision lunacy…..Not this year!…..".
– The goth Scarlett Johansson
– Heidi. Norton: "It's about diversity this year, so that's see who they've chosen to host?……….Three. White. Men.".
– Gay disco with Clockwork Orange trews
– Heidi. Graham Norton: "Her brother will be fiddling with her tonight". (Just a statement of fact rather than some Donald Trump/Ivanka bad taste satire).
– Yes! Points to Belarus for not pandering to the English language. Jaunty tune too. Best so far.
– Must watch 'Paper Moon' again, with Ryan and Tatum O'Neal. Awesome film.
– 'Hey, now. Hey, now'. The writer obviously loves Hank Kingsley and The Larry Sanders Show. And so they should.
– Armenia pulling out some interesting eastern-influenced stuff but perhaps too dour to win. Compelling performance though.
– Graham Norton: "Two twins". That makes four in total, Graham. Schoolboy error.
– Just what the world needs: a Dutch Wilson Phillips. Good enough.
– Cool monchrome colour scheme, slack tune, Moldova
– Sunglasses in-doors is always a no-no unless you're in the Velvet Underground
– Graham Norton is on fire tonight. Bloody funny.
– Yes, Hungary! Own language, violin and nice lady with nice stomach. D'oh! I love rap generally but that rap might have spoiled things. Close but no cigar.
– Children's TV show crossed with yoga esthetics. Catchy stuff, Italy. Good.
– Wave your hands in the air, wave them like you just don't care
– Denmark lady is like the woman in Friends who replies to Joey saying that she looks great with: "That's because my dress accents my breasts".
– Brave and brilliant from Portugal. Top 5 for beardface. Loved that. Fucking fantastic, for me.
– Norton is making me howl with laughter. Hitting it out of the park
– He's like that Max Wall bit when he keeps tuning side-on, doing two different, distinct characters. Bonkers, Croatia. One of Pavarotti's love children?
– Crap, Spain. Revert back to Spanish next time. Weak.
– Nul points for Spain if there's any justice….which there isn't.
– MF Doom and Daft Punk, with all the talent surgically extricated. Woeful but a step up from the depths of Spain so well done for that Norway.
– Cigarette break out the back or try to last through this so I don't miss Lucie for Britain? I'll grit my teeth.
– Well done, Lucie. Lovely, pure voice and very confident. Good for her.
– Choon, Cyprus, choon. Liked that, with its backward noises too.
– Walking that razor line between great and bollocks. Clever stuff, Romania
– Try that in my house, you'll get a back coated with cat and dog hair
– Gah! Rock bands in Eurovision always make me melancholy.
– Hats off to him, though, for doing an 'inverted Hendrix' and playing a left-handed guitar, right-handed.
– Belgium tune is excellent but that poor lady looks absolutely bloody terrified.
– Sweden as a dark horse? Nothing wrong with that tune at all. Very confidently done. Like.
– Graham says that the Bulgarian has just turned 17 and is the only performer born this century….but the "heads" know and understand that a century starts at '01 with '00 being the end of the previous.
– Hats off to communism. The French lady played piano in her living room with a painting of Mao on her wall.
– French singer is beautiful, like she was Elodie Bouchez's sister. Great tune as well. Very, very good. Singing at least partially in own language, thank God.
– That was pretty brilliant. I love Eurovision and I love Europe.
Should be:
1. Portugal
2. Belarus
3. France
4. Armenia
5. UK
Will be:
1. Portugal
2. Romania
3. France
4. Italy
5. UK
And, surely, nul points for Spain? Shameful nonsense.
– Looking forward to the double-tracked points 'thing' again. Very exciting last year and a bloody great idea.
– Did I miss someone mooning at the camera? Curses!
– I miss those presenters from last year. They were great.
– Was it the 2002 World Cup in South Korea and Japan who would show streakers and pitch invaders in super slow-motion as if it was a goal being scored? I miss that joie de vivre.
– Christina Aguilera's Swedish sister.
– That duo was Savile-esque for a second. In terms of their hair gag, anyway….
– Israel is being a buzzkill
– Nice to see the scandalous Spain still on zero
– The male version of the twins from The Shining
– Deutschland must be on crack. Norway was woeful
– Appropriately, that lady's backdrop is a street corner
– Lucie's doing very well but that second tranche of points can motherfuck everything in five seconds flat.
– Spain are only ones still on zero. You getting the fuckin' message, Spain? Don't embarrass us and yourselves again.
– Scandalous that Belarus are on the right side of the board.
– Still bottom Spain. You're a disgrace.
– Kent Brockman: "I've said it before, I'll say it again: democracy simply doesn't work"
– Tense. Tense as a motherfucker. This. Is. GREAT!
– Lovely touch getting his his sister and writer to duet. This is just great. Really beautiful.
– Love and appreciation to Lucie Jones, to Heidi, to Graham Norton, to Europe, to everyone below the line. Only four or five months until 'Strictly Come Dancing'. Goodnight. Have a great summer.
*************************
Money and the Hammer's Main Pages
FOOTBALL   CINEMA  CURRENT AFFAIRS     MUSIC     MISCELLANEOUS: (HISTORY, HEALTH, WORDGAMES……)